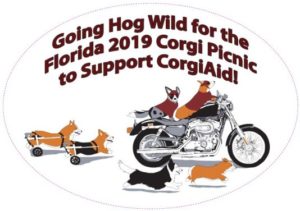 The Florida Corgi Picnic, to benefit CorgiAid and Sunshine Corgi Rescue, began as a casual gathering of corgis and friends in George and Betty Bost's backyard with 19 humans and their corgis in 1999. The FCP has now grown to 400-500 humans and over 350 corgis and corgi mixes. There are so many return attendees each year; puppies grow into seniors, friendships are renewed and grow each year. Many lifelong friendships have formed at the Florida Corgi Picnic. It is more than just a large 'meet-up', it is an event of fun, love, frapping, friendship and memories.
Celeste Militzer is the Florida Corgi Picnic Chairperson. Celeste, with a team of dedicated volunteers, work very hard throughout the year to plan this event, the location, the hotel, the food, the Raffle, the merchandise and so much more.
The Picnic is limited to Corgis, Corgi mixes and their humans! Picnic Events includes a raffle with amazing prizes, Corgi best dressed and trick contests, corgi racing, online and live auctions, a delicious BBQ lunch, pictures with Santa, and more. From a small gathering in 1999, this has grown to a weekend event including Friday night, all day Saturday and often spills over to Sunday as well.
The funds raised by the Florida Corgi Picnic have purchased many carts and provided support for CorgiAid Cart Program, and now also supports Sunshine Corgi Rescue which does amazing work in Florida.